Whether you're missing one tooth or multiple teeth, dental implants can restore the function and appearance of your smile.
Dr. Sasan Khodabakhsh has extensive training in implant placement and restoration. He can completely rejuvenate your dental health.
Learn about All-on-4® implants and other advanced treatment options at Summit Point Dental Implant Center in McKinney, TX...
Interested in learning more? Getting started is easy...
Schedule a Free Consultation
Dr. Khodabakhsh has years of training and experience in dental implants, and is committed to helping people in McKinney, TX who are missing one tooth or all of their teeth. He is proud to be affiliated with:
The American Dental Association (ADA)
The Academy of General Dentistry (AGD)
The American Academy of Implant Dentistry (AAID)
The International Congress of Oral Implantologists (ICOI)
Summit Point Dental Implant Center will work with you to find the right implant procedure at a cost you can afford. For more information about All-on-4 and other dental implant options, contact our practice online. You can also reach us by phone at:
5 Reasons to Consider Dental Implants
Advanced Implant Training
A significant portion of Dr. Khodabakhsh's continuing education includes 100 hours of advanced training with the American Academy of Implant Dentistry and the International Congress of Oral Implantologists.
Implant-supported restorations consist of three pieces: an implant post that is surgically anchored into the jawbone, an abutment on top of the post, and a crown, bridge, or denture.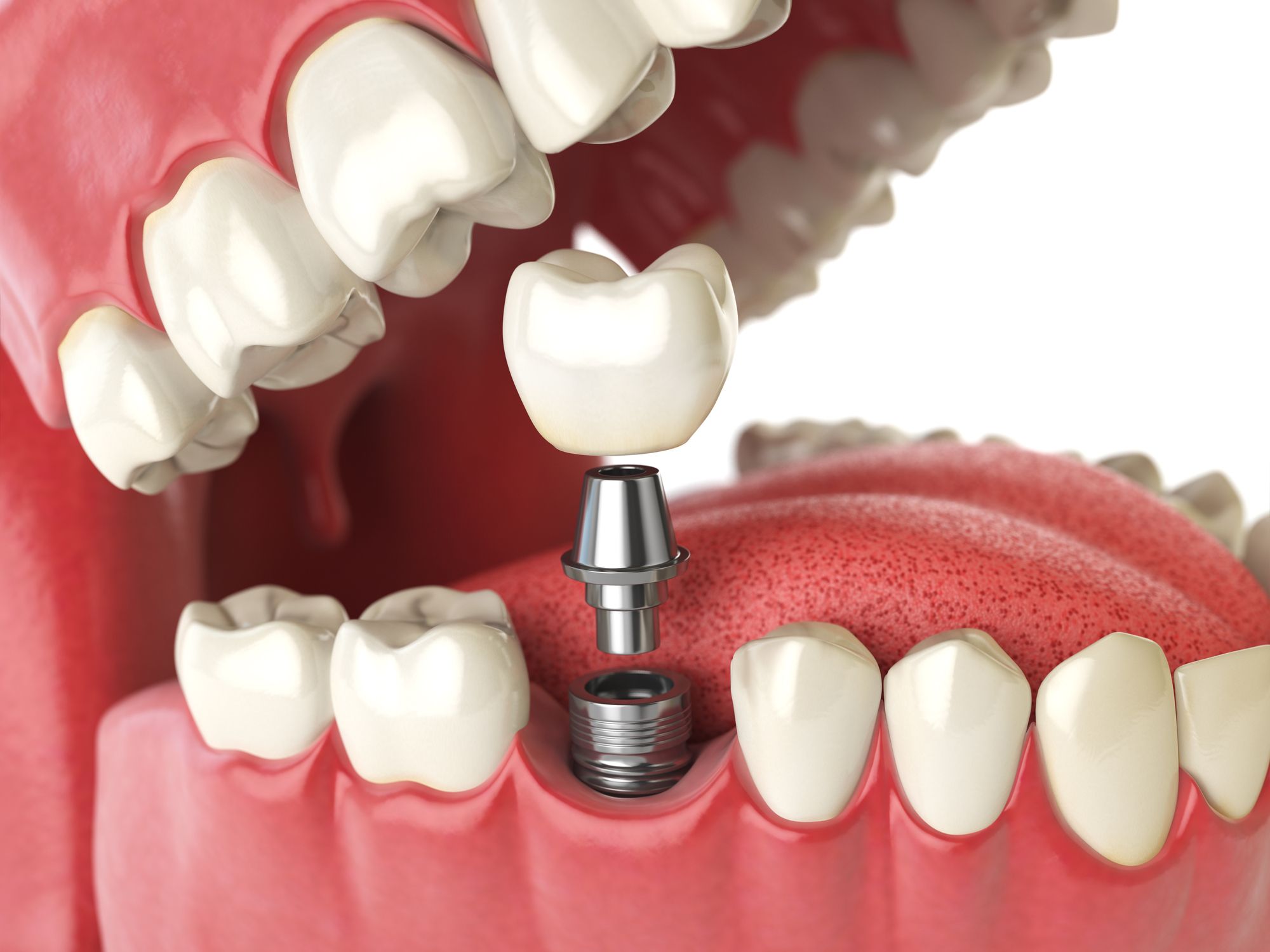 Implant-Supported Crowns
For individuals missing one tooth, implant-supported crowns are an excellent solution. A single implant is anchored into the gap in your smile in order to support a custom dental crown. The artificial tooth is indistinguishable from natural teeth.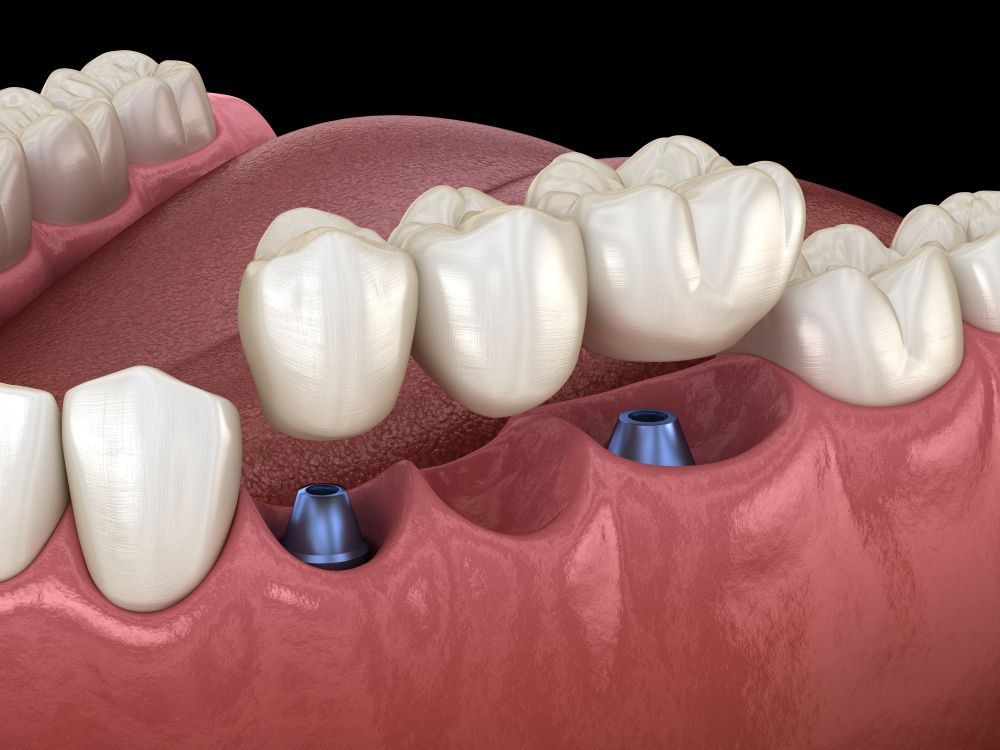 Implant-Supported Bridges
For individuals missing multiple teeth, an implant-supported bridge is ideal. Two or more implants are placed in the jawbone for support. Many patients at our McKinney practice benefit from the strength and appearance of this type of fixed appliance.
Implant-Supported Dentures
For individuals who are missing most or all of their natural teeth, implant-supported dentures are recommended. Dr. Khodabakhsh offers both All-on-4 and Hybridge® full-arch restorations that allow patients to bite, chew, and smile confidently again.
Dental Implants versus Traditional Restorations
About All-on-4
Full-Arch Replacement with Just Four Implants
All-on-4 is a dental implant system designed for people who are missing most or all of their teeth. Using just four strategically placed implants, All-on-4 can support a full upper denture or lower denture with the stability of natural tooth roots. Benefits over traditional implant dentures include:
Fewer Implants Needed
Only four implants are needed to support a full denture, even in most patients who lack sufficient jawbone density for traditional dental implant procedures. This avoids the need for bone grafting and multiple surgeries.
Same-Day Restorations
All-on-4 achieves a stable foundation faster than traditional implants thanks to the position of the four implants. In many cases, a temporary denture can be anchored on the same day as implant placement.
Greater Affordability
Placing fewer implants translates into savings for the patient. Since only four implants are used and grafting is not necessary, All-on-4 is generally less expensive than traditional dental implant procedures.
Candidates for Dental Implants
Self-Conscious about Tooth Loss
A missing tooth or major gaps between your teeth can affect the way you look. Implants restore the appearance of your smile, eliminating tooth gaps while filling out the shape of your lips and cheeks.
Sufficient Jawbone Density
Good jawbone density and height are needed to support an implant. Since tooth loss causes bone loss and gum recession, tissue grafting may be required before placing implants.
Good General Health
Dental implants are recommended for people who are healthy enough to undergo oral surgery. Patients should be non-smokers committed to proper aftercare and regular checkups with their dentist.
5 Causes of Dental Implant Failure
Summit Point Dental Implant Center uses state-of-the-art equipment and high-end materials. We also warranty our dental implant services.
The Dental Implants Procedure
A Look at the Treatment Process
Undergoing implant surgery and receiving a permanent crown, bridge, or denture can take several months to a year. Below is a general overview of the restorative dentistry procedure so you have a realistic understanding of the implant treatment timeline.
We offer various sedation options so there is no need to be anxious about discomfort.
How Much Do Dental Implants Cost?
Are Implants Covered by Insurance?
While your crown, bridge, or denture might be covered by insurance, implants are usually not. During your visit to our McKinney practice, we can discuss your unique needs and provide a price estimate. We can also discuss financing options, such as CareCredit® that make dental implants more affordable.