Whether you're missing one tooth or multiple teeth, dental implants can restore the function and appearance of your smile.
Dr. Sasan Khodabakhsh has extensive training in implant placement and restoration. He can completely rejuvenate your dental health.
Learn about the advanced implant treatment options available to you at Summit Point Dental Implant Center in McKinney, TX.
Request a Free Consultation Today
Meet With an Experienced Implant Dentist
Dr. Khodabakhsh has years of training and experience in dental implants. He is committed to helping patients in McKinney, TX, and beyond who are missing one tooth or all of their teeth. He is proud to be affiliated with:
The American Dental Association (ADA)
The Academy of General Dentistry (AGD)
The American Academy of Implant Dentistry (AAID)
The International Congress of Oral Implantologists (ICOI)
Summit Point Dental Implant Center will work with you to find the right implant procedure at a cost you can afford. To learn more about your dental implant options, contact our practice online. You can also reach us by phone at:
Five Reasons to Consider Dental Implants
Dr. Khodabakhsh Explains the Benefits
"Would recommend Dr. K to everyone who needs an implant..."
5-Star Reviews From Happy Patients
Dr.K worked on my dental implant. Overall the experience was great with him and his staff. Dr.K guided well during the whole process and has mastered the procedure. The staff provided good support during the procedures and scheduling the appointments. Would recommend Dr.K to everyone who needs an implant...
View on Google
So I'm a person that is scared to go to the dentist. Has never been my fav thing to do. But wow I am amazed of how comfortable and comforting the staff and my dentist was. They did everything to make me feel comfortable and relaxed. Amazing staff! Clean, fast, and definitely to your every need. If I can give more than five stars I would. Thank you for making me feel safe.
View on Google
Advanced Implant Training
A significant portion of Dr. Khodabakhsh's continuing education includes 100 hours of advanced training with the American Academy of Implant Dentistry and the International Congress of Oral Implantologists.
Your Dental Implant Treatment Options
Implant-supported restorations consist of three pieces: an implant post that is surgically anchored into the jaw, an abutment on top of the post, and a crown, bridge, or denture.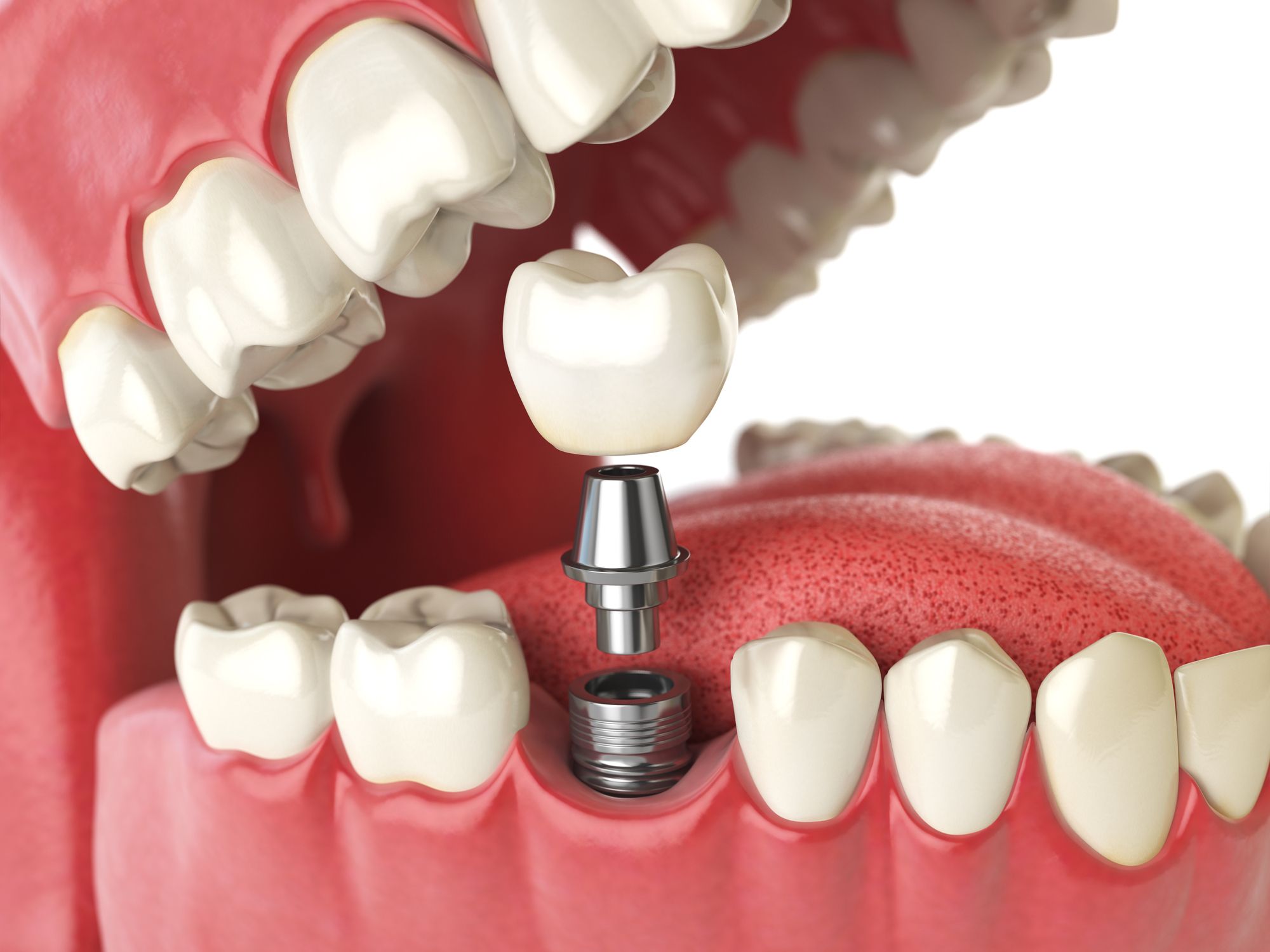 Implant-Supported Crowns
For individuals missing one tooth, implant-supported crowns are an excellent solution. A single implant is anchored into the gap in your smile in order to support a custom dental crown. The artificial tooth is indistinguishable from natural teeth.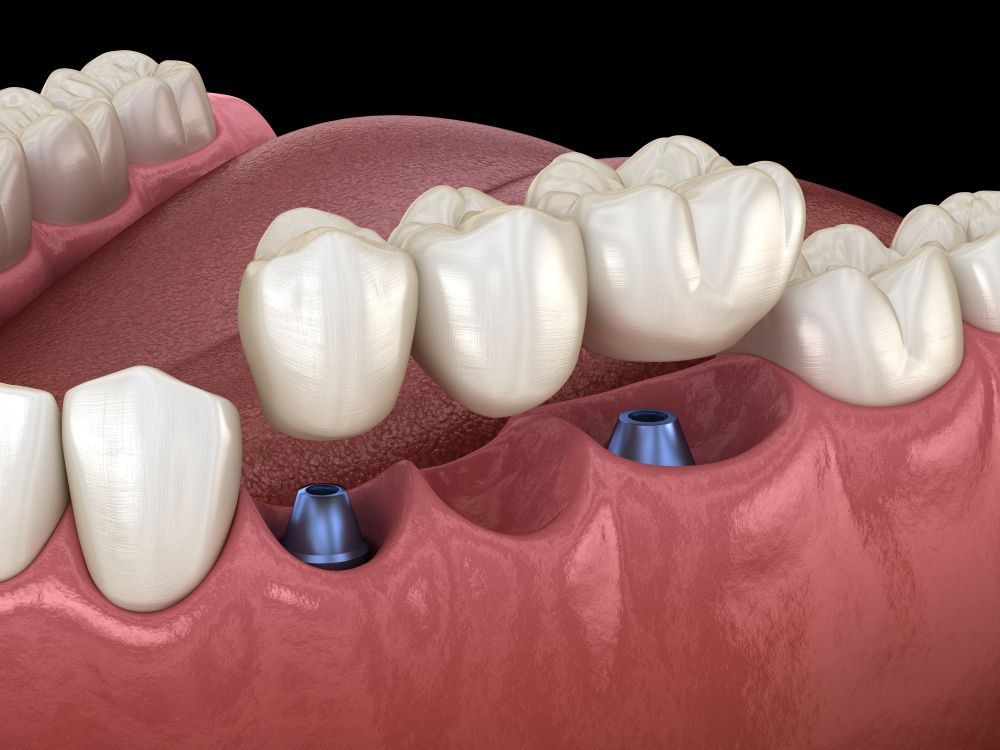 Implant-Supported Bridges
For individuals missing multiple teeth, an implant-supported bridge is ideal. Two or more implants are placed in the jawbone for support. Many patients at our McKinney practice benefit from the strength and appearance of this type of fixed appliance.
Implant-Supported Dentures
For individuals who are missing most or all of their natural teeth, implant-supported dentures are recommended. Dr. Khodabakhsh offers both All-on-4 and Hybridge® full-arch restorations that allow patients to bite, chew, and smile confidently again.
Dental Implants vs. Traditional Restorations
About All-on-4
Full-Arch Replacement with Just Four Implants
All-on-4® is a dental implant system designed for patients who are missing most or all of their teeth. Using just four strategically placed implants, All-on-4 can support a full upper denture or lower denture with the stability of natural tooth roots. Benefits over traditional implant dentures include:
Fewer Implants Needed
Only four implants are needed to support a full denture, even in most patients who lack sufficient jawbone density for traditional dental implant procedures. This avoids the need for bone grafting and multiple surgeries.
Same-Day Restorations
All-on-4 achieves a stable foundation faster than traditional implants thanks to the position of the four implants. In many cases, a temporary denture can be placed on the same day as implant surgery.
Greater Affordability
Placing fewer implants translates into savings for the patient. Since only four implants are used and grafting is not necessary, All-on-4 is generally less expensive than traditional dental implant procedures.
Candidates for Dental Implants
During
your free consultation
, you and Dr. Khodabakhsh will discuss these candidacy factors for dental implants.
Affected by Tooth Loss
Dental implants are only for patients who are dealing with some degree of tooth loss. If you are not missing teeth but want to improve an aspect of your oral health or appearance, Dr. Khodabakhsh can recommend an alternative treatment.
Sufficient Jawbone Density
Your jawbone must be strong enough to support a dental implant. Since tooth loss causes bone loss and gum recession, tissue grafting may be required before we can place your implants.
Good General Health
Dental implants are recommended for people who are healthy enough to undergo surgery. Patients should be in good general health and committed to proper aftercare and regular checkups with their dentist.
Stop Tobacco Products
Tobacco products are bad for your teeth and overall health. Tobacco can also affect the body's ability to heal, which can increase your risk of implant failure. Our dentistry practice recommends quitting all tobacco products several months before implant placement.
Good Oral Health
If you suffer from an oral health issue such as tooth decay or gum disease, you may require preparatory care, like teeth cleaning or periodontal treatment, before your dental implants can be placed. This ensures a healthy foundation for your dental implants.
Ready to Take the First Step?
Request a Free Consultation at Our Dental Practice in McKinney
Navigating your treatment options for tooth loss can feel overwhelming, but at Summit Point Dental Implant Center, we're here to guide you every step of the way. We take pride in building relationships with our patients, providing education on your treatment options, and helping you achieve and maintain excellent oral health.
You don't have to live with reduced oral function due to tooth loss. Dental implants can preserve your jawbone, provide unparalleled stability for lifelike restorations, and allow you to eat and speak with confidence once more, especially when placed by a highly trained implant dentist like Dr. Khodabakhsh.
You can start your journey to a gorgeous, functional smile by contacting us online or calling our McKinney, TX, dental practice to request your free consultation.
"The best dentist's office I've been to in my life."
Hear From Satisfied McKinney Patients
Love them! They have been absolutely priceless from the moment we met. The FIRST place that is able to keep me relaxed during my procedures!! They have gone above and beyond for us through our process. We are so thankful to have found such a trustworthy place to meet our needs! Absolutely beautiful personalities creating gorgeous masterpieces! We look forward to continuing care with them moving forward for all of our needs!
View on Google
Had a long and complicated treatment plan that was definitely quite the task, but they took care of it spectacularly. It was their number 1 priority to make sure I was as comfortable as possible, inside and outside the office. The staff is really nice and understanding and this has so far been the best dentist's office I've been to in my life. I will continue to come here unless I move far, FAR away.
View on Google
Five Potential Causes of Dental Implant Failure
Summit Point Dental Implant Center uses state-of-the-art equipment and high-end materials. We also warranty our dental implant services.
Our Dental Implant Procedure
A Look at the Treatment Process
Undergoing dental implant surgery and receiving a permanent
dental crown
, bridge, or
denture
can take a few months to a year
. Below is a general overview of our specialized timeline for your dental implant procedure.
We offer various sedation options to keep you comfortable during treatment.
How Much Do Dental Implants Cost?
Frequently Asked Questions
About Dental Implants
Are dental implants covered by insurance?
While your crown, bridge, or denture might be partially covered by insurance, implants are usually not. During your visit to our McKinney practice, we can discuss your unique needs and provide a price estimate. We can also discuss financing options, such as CareCredit®, that can make your dental implants more affordable.
How long will a dental implant last?
Dental implants are made of durable titanium. With proper care, your implants can last a lifetime. However, it is important to remember that your restoration will wear over time and will eventually need to be replaced, but not for many years.
How do I maintain my dental implants?
Maintaining your implants and custom restorations is as simple as brushing and flossing properly and seeing your dentist for regular exams and cleanings.
"I wouldn't go anywhere else."
More From Happy McKinney Patients
Dr khodabakhsh & Staff are the best! They work great as a team and he is an excellent dentist as well.Recommend him highly.Thank you everyone for helping me .
View on Google
New facility. Dr. K and staff are responsive and personable. Very satisfied with the quality of work and happy with the comparable pricing. I wouldn't go anywhere else.
View on Google